From Randy Wayne White, the New York Times bestselling author of the Doc Ford series, comes Sharks Incorporated, a high-stakes, masterfully plotted series for middle schoolers that's sure to make a splash. These books, full of courage, friendship, and, well, sharks, are perfect for reluctant readers!
Doc Ford has a new mission for Sharks Inc.: visit Sanibel Island to find a rare orange tree that's survived a disease destroying Florida's citrus. Instead, they meet a reclusive woman who believes the ghost of a dead king is haunting her! Eager to help, the team discovers the woman's wealthy neighbor knows the secret of the dead king's missing gold medallion—and is selling illegal reptiles.
Marine biologist Doc Ford invites the Sharks Inc. trio to a remote island in the Bahamas where lionfish, a venomous inhabitant, have invaded and put several people in the hospital. They're upsetting the balance of nature—and so are the outlaw treasure hunters in the area. When the trio finds precious artifacts, they agree to guard the secret, even as outlaws hunt them down, hoping for riches.
Marine biologist Doc Ford enlists Luke, Maribel, and Sabina to help him protect Florida's biannual migration of blacktip sharks. Together they form Sharks, Inc. and help track sharks each day for research—and stay far away from poachers. When they come face to face with danger, survival requires them to rely on their own unique gifts, and on one another.
PRAISE FOR SHARKS INCORPORATED
"If you don't yet know about Sharks Incorporated you need to find out. It turns out that Randy Wayne White has created a world of science nature and mystery for young readers, the same as he did for the fans of Doc Ford."
—Mike Lupica, author of Heat And Travel Team
"Nobody navigates the natural beauty and dangerous twists of Florida's mangrove backwaters better than Randy Wayne White. Part detective novel, part field guide, and 100 percent authentic Florida—this fun and suspenseful tale shows Randy Wayne White is an undisputed master of his craft, and this place." —John Rasmus, former editor-in-chief at Nat Geo Traveler, Men's Journal, and Outside
"This well-paced, exciting series opener will keep readers on their toes." —Kirkus Reviews
"White does a good job writing diverse, relatable characters. . . . Give to readers looking for science-based mysteries." —Booklist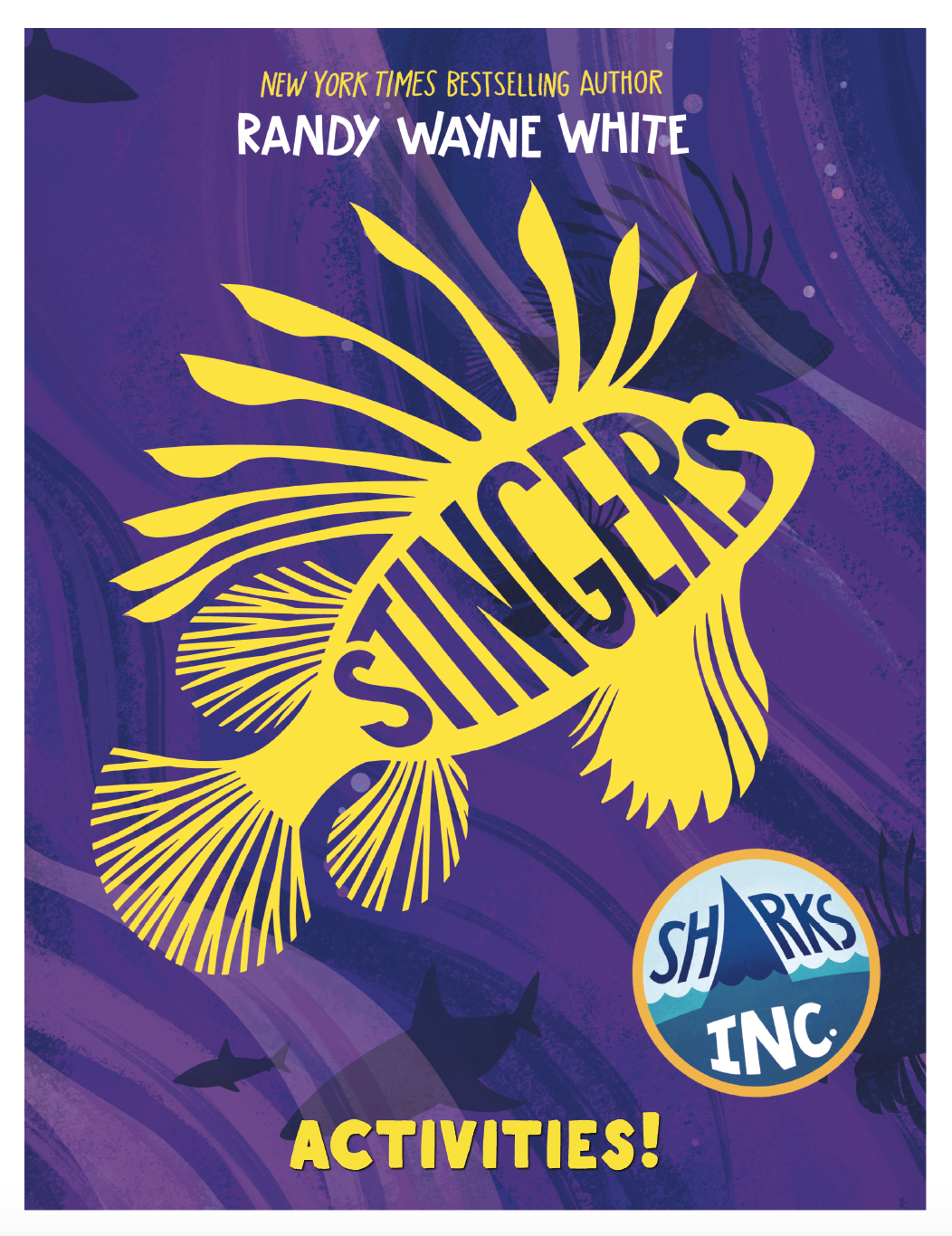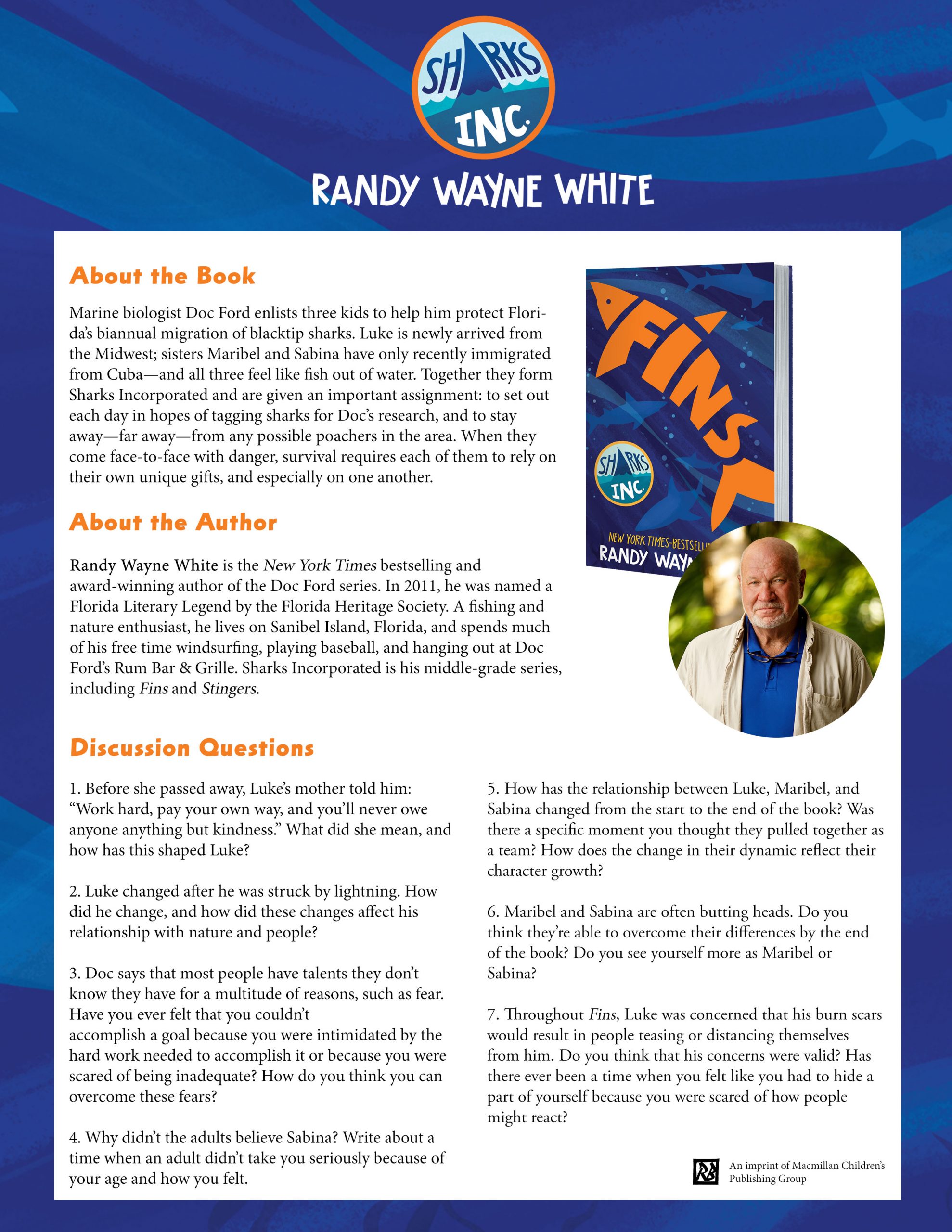 Randy Wayne White is the New York Times-bestselling and award-winning author of the Doc Ford series. In 2011, Randy was named a Florida Literary Legend by the Florida Heritage Society. A fishing and nature enthusiast, he has written extensively for Outside Magazine, Men's Journal, and Men's Health. He lives on Sanibel Island, Florida, where he was a light-tackle fishing guide for many years, and spends much of his free time windsurfing, playing baseball, and hanging out at Doc Ford's Rum Bar & Grille. Fins is Randy Wayne White's first middle-grade novel.
SIGN UP FOR MORE UPDATES!