"Funny, enthralling, a great reminder that being a little odd isn't a bad thing." —Kayla Miller, author of Click and Camp
★ "This thrilling coming-of-age adventure is both quirky and sincere."—Kirkus Reviews, starred review
Henry Khoo's family treats him like a baby. He's not allowed to go anywhere without his sister/chaperone/bodyguard. And he definitely CAN'T take a journey halfway around the world all by himself!
But that's exactly his plan. After his family's annual trip to visit his father in Singapore is cancelled, Henry decides he doesn't want to be cooped up at home with his overprotective family and BFF turned NRFF (Not Really Friend Forever). Plus, he's hiding a your-life-is-over-if-you're-caught secret: he's the creator of an anonymous gossip cartoon, and he's on the verge of getting caught. Determined to prove his independence and avoid punishment for his crimes, Henry embarks on the greatest adventure everrr. . . hoping it won't turn into the greatest disaster ever.
A Parents Magazine Best Kids Book of the Year
An NPR Best Book of the Year
"Uproarious humor and a burgeoning friendship add to the ingredients in this stunning debut. . . a book to be savored – and the illustrations are the icing on the cake."
—NPR
"Heartwarming and rib-tickling. Thoroughly satisfying."
—Terri Libenson, bestselling author of Invisible Emmie
★ "Perfect for fans of Gene Luen Yang and Victoria Jamieson."
—Shelf Awareness, starred review
★ "The humor [is] akin to that of Jeff Kinney's popular "Wimpy Kid" series . . . the perfect mixture of funny and emotionally resonant."
—School Library Journal, starred review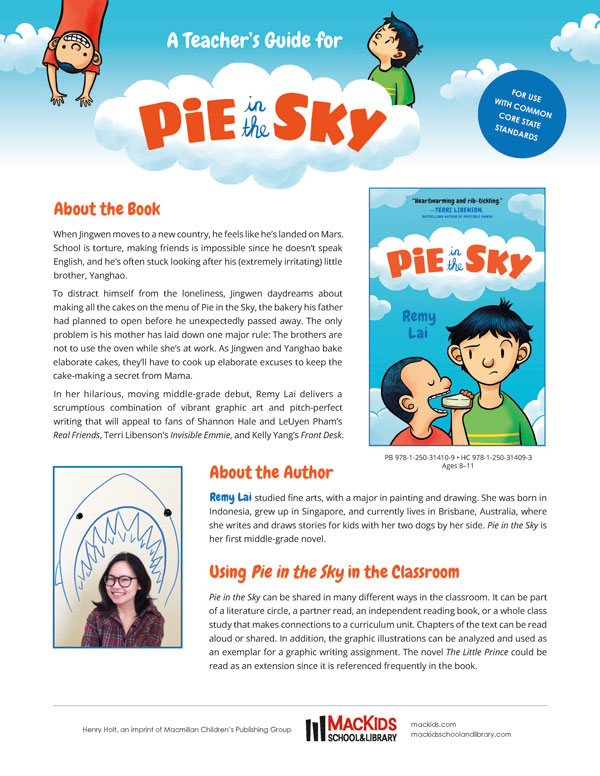 Remy Lai studied fine arts, with a major in painting and drawing. She was born in Indonesia, grew up in Singapore, and currently lives in Brisbane, Australia, where she writes and draws stories for kids with her two dogs by her side. She is the author of the critically-acclaimed Pie in the Sky and Fly on the Wall. Find out more about Remy on her website and follow her on Instagram.