The hilarious bestselling series by Janet Tashjian with cartoons by Jake Tashjian
Summer's finally here, and Derek Fallon is looking forward to pelting the UPS truck with water balloons, climbing onto the garage roof, and conducting silly investigations. But when his parents decide to send him to Learning Camp, Derek's dreams of fun come to an end. Ever since he's been labeled a "reluctant reader," his mom has pushed him to read "real" books-something other than his beloved Calvin & Hobbes.
As Derek forges unexpected friendships and uncovers a family secret involving himself (in diapers! no less), he realizes that adventures and surprises are around the corner, complete with curve balls.
Derek Fallon gets the opportunity of a lifetime—to be a stunt boy in a major movie featuring a pretty teen starlet. After accepting the job he learns that he is the star's stunt double and must wear a wig! His friends are never going to let him live this down. If that weren't his only problem, his parents are threatening to give away his pet monkey, and his best friend just posted an embarrassing video of him on Youtube. Can life get any worse? Still the irrepressible Derek takes it all in stride and even manages to save the day.
There's a new kid in Derek Fallon's class. His name is Umberto and he uses a wheelchair. Derek's family is still fostering Frank the monkey, and Derek thinks it would be great to train Frank to assist Umberto. But Derek quickly realizes that Umberto is definitely not looking for any help. Derek soon becomes the butt of Umberto's jokes. On top of that, Umberto starts stealing Derek's cartoon ideas and claiming them as his own. How did Derek get himself into this mess, and how can he find a way out before he is the laughingstock of school? The answer may very well be his cartoon strip—SUPER FRANK!
Derek Fallon gets the chance of a lifetime—to participate in a gaming company focus group and to test out a new video game called "Arctic Ninja." Together with his friends Carly, Matt, and Umberto, Derek thinks his gaming talents will be showcased. But he soon realizes that everyone has got him beat, including whiz kid El Cid. On top of that, school reading tests have begun and Derek feels doubly off his game. Isn't there anything he's good at? Find out in this hilarious middle-grade novel with cartoon illustrations.
Derek Fallon has expanded his taste in cartoons to the world of manga and anime. Together with his friends Carly, Matt, and Umberto, Derek has fun learning about all the cool aspects of ninja culture.
When someone starts vandalizing their school with graffiti of a mischievous troll-like figure, these ninjas-in-training are convinced they'll be able to crack the case. But it turns out that being a ninja is a lot more work than they thought, and this adventure brings about new opportunities for Derek to embarrass himself. For once, can he be the hero that saves the day?
Derek Fallon discovers all the angst that comes with being twelve—he just wants to feel grown up, but life gets in the way with a series of mishaps that make him look like a baby. He passes out during a worm dissection in science class, falls flat on his face in gym class and gets a fat lip that causes him to lisp all day, and his plans for a monster-truck party turn into a bouncy house disaster. Why isn't being in middle school as great as Derek imagined? Thankfully, with a little help from his friends—and, ironically, a Toys for Tots fundraiser—things seem like they could start shaping up at last.
Derek Fallon finally found something to get excited about at school—an extracurricular class on making videos! Together with his friends Carly, Matt, and Umberto, Derek can't wait to create his own Youtube web series. But he soon realizes Youtube stardom is a lot of work. On top of that, it's time for his foster monkey Frank to go to monkey college so Derek must scramble to find a reason for Frank to stay with his family—if only a little while longer. Can Derek solve both problems at once? What if Frank became a part of Derek's Youtube videos?
Here's another funny and thoughtful novel in the series that centers around most every tween today's pastime—Youtube!
Derek Fallon loves making funny memes, but when he finds himself the joke of a viral meme, he realizes how easy it is to offend others using this platform. Derek decides to confront the creator of the hurtful meme, all during the backdrop of a fire evacuation that has put him in the same place as his meme bully. Here is another thoughtful, funny, and timely adventure in the life of the ever-loving, ever-mischievous Derek Fallon.
Derek Fallon receives an exciting new gift—a laptop! But there's a catch: it has no Wi-Fi so he can't use it for gaming. If he wants to play computer games, he'll have to learn how to code them himself. Another unforgettable adventure awaits in Book 9 of the My Life series, this time involving tech and coding!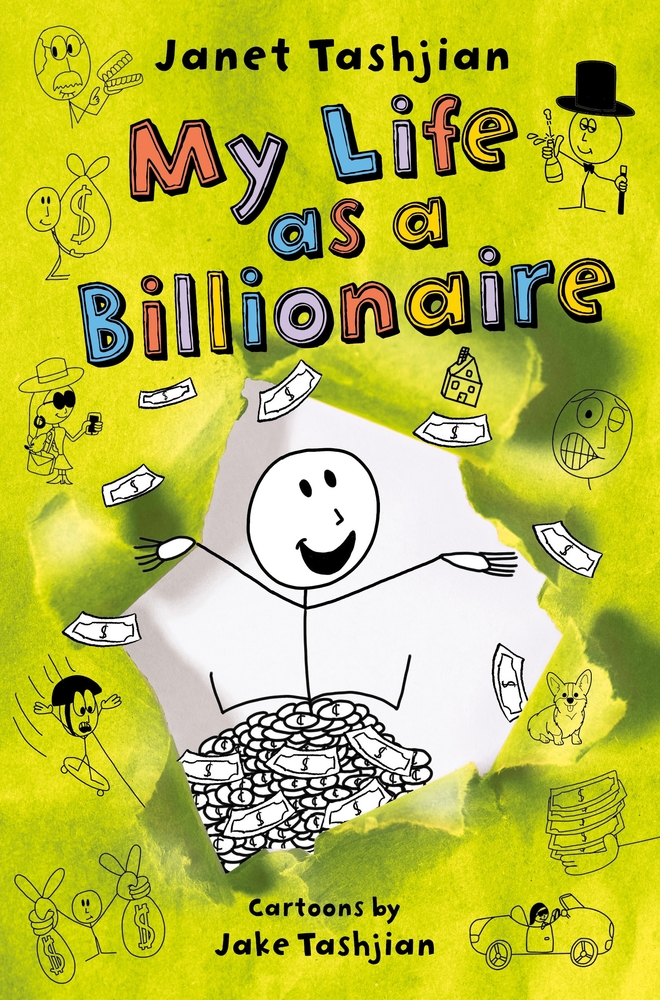 Derek Fallon won the lottery and now gets to split over a billion dollars with a friend—the buying possibilities are endless—skateboards!, sneakers! video games!, a backyard skateboard park!!!—let the shopping begin. But Derek is soon challenged with new obstacles that he hadn't thought of before. Having money to spend should make his life easier but it's bringing with it lots of anxiety. It's up to Derek to find a balance with his newfound wealth, and to consider the best ways to spend his money.
This fun paperback boxed set includes the first three books in the beloved, bestselling middle-grade My Life series by Janet Tashjian.
The irrepressible yet lovable Derek Fallon can't seem to sidestep trouble—whether it's pelting the UPS truck with water balloons, performing crazy stunts at the skate park (that lead to an acting gig!), or getting into a cartooning competition with a classmate—surprises are around every corner (complete with curve balls!).
Janet Tashjian is the author of the popular My Life series including My Life as a Book, My Life as a Stuntboy, My Life as a Cartoonist, My Life as a Joke, and My Life as a Gamer, as well as the Einstein the Class Hamster series, illustrated by her son, Jake Tashjian. Jake and Janet live in Studio City, California.