The inspiring and joyful story of a special needs pet who overcomes adversity.
Lily to the Rescue: The Three Bears
Two bear cubs are lost in the woods without their mother. It's Lily to the rescue!
Lily to the Rescue: Foxes in a Fix
When a litter of arctic foxes escapes from the zoo, it's Lily to the rescue!
Cooper finds his forever home at an adoption fair, and quickly discovers his very important purpose: to help his boy Burke by pulling his wheelchair, fetching things for him, and assisting him in and out of his chair.
An uplifting tale of a little dog who takes on the big city to help the girl he loves.
Lily to the Rescue: Lost Little Leopard
When a lost little Amur leopard is brought to the zoo and needs a friend, it's Lily to the rescue!
Lily to the Rescue: The Misfit Donkey
A baby donkey tries to make friends with a herd of older donkeys from a neighboring farm, only to be rejected again and again. No one can figure out why—until Lily comes to visit. It's Lily to the rescue!
Lily to the Rescue: Dog Dog Goose
A gaggle of orphaned baby geese think Lily is their mother. But they need to learn how to fly. Can Lily find a way to teach them?
Lily to the Rescue: The Not-So-Stinky Skunk
On a camping trip with Maggie Rose's dad, Lily gets sprayed by a skunk. But the skunk has no stink! That means it can't defend itself against big animals. Can Lily find a way to help?
Inspired by the New York Times and USA Today bestselling novel A Dog's Way Home by W. Bruce Cameron, now a major motion picture! Experience the harrowing tale of a puppy's way home.
When Lily meets a crow with a broken wing, she and her girl Maggie Rose take the crow home to Mom. But when the crow starts to become too tame, some unexpected problems arise. It's Lily to the rescue!
Lily to the Rescue: Two Little Piggies
Maggie Rose and Lily meet two little piggies who are lost at a rest stop and need their mother. But no one knows where they came from. How will they ever find the piglets' mom?
Meet Lily, a rescue pup from the shelter who discovers her very special purpose. Lily's small size will help her save other animals that no one else can. It's Lily to the rescue!
As Toby comforts the residents of a nursing home, he discovers that his purpose may be the most important of all!
The fictionalized tale of a real little stray puppy, Shelby, rescued from a life on the streets to become the star of the major motion picture, A Dog's Way Home!
Every dog has work to do. Every dog has a purpose. Molly knows that her purpose is to take care of her girl, C. J., but it won't be easy.
A heartwarming story of a boy and his dog, who learns that sometimes bad things happen—and that there can be no greater purpose than to protect the boy he loves.
An inspiring tale for young animal lovers, Ellie discovers her purpose as a search-and-rescue dog in Ellie's Story.
A wildly popular series for young readers is now available in a boxed set containing Ellie's Story, Bailey's Story, and Molly's Story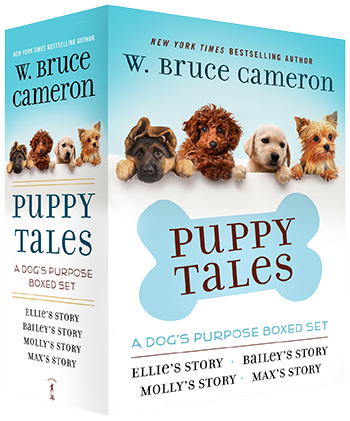 A wildly popular series for young readers is now available in a boxed set containing Ellie's Story, Bailey's Story, Molly's Story and Max's Story